All In One Keylogger review
All In One Keylogger is invisible surveillance key logger software that registers all activities from all computer users on your PC to encrypted logs for your later review.
You can set Key logger to automatically send log files to a pre-selected e-mail/FTP/LAN account or to copy them to a USB device to view them later on another computer.
Interface of All In One Keylogger is translated into 12 languages.
All In One Keylogger can monitor and record all the keystrokes, including language-specific characters, chat conversations (Both sides), passwords, and e-mails; also, it records clipboard information, microphone sounds, makes screenshots, and captures desktop and Internet activity (like the sites your kids have visited), File/Folders activities and much more.
Security:
Only the person who knows the password gets access to the program.
All In One Keylogger is one of the best monitoring software products currently available. It has many functions and settings.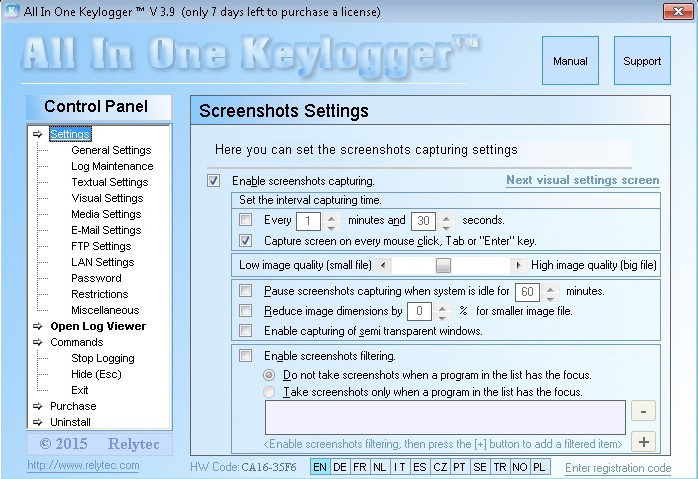 Settings:
This keylogger has many settings, which you see on the screenshot.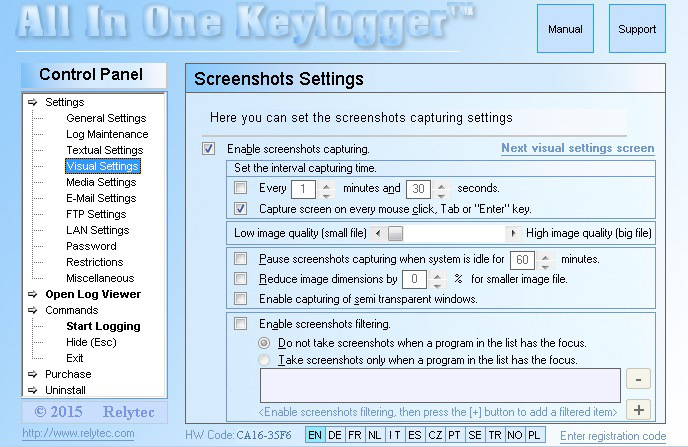 Visual settings:
Program has many visual settings. You can pre-set the interval for screenshots and make them every 2 seconds, 10, or 30.
Online Monitoring:
All in One Keylogger can record both sides of conversations in such popular online chats like Skype, ICQ and others.
Record typewriter keys and system keys:
Along with keystrokes, All In One Keylogger can record keyboard shortcuts; it is also able to record the websites the user pre-views when using search engines.
Log file transfer:
All in One Keylogger can send log files to your email.
Example of screenshots:
All in In One Keylogger's interface is available in 12 languages, but Russian and Ukrainian aren't among them. This is an example of how many screenshots can program do for five minutes.
Its interface is very simple and is available in 12 languages to help all users. This program can be recommended for absolutely all user groups, from all over the world.
Summary
Author Rating
Software Name
Operating System
Microsoft Windows 10, 8, 7, Vista, XP, Vista, XP, 2000, 2003
Software Category
Security, Parental control, Employee monitoring, Computer monitoring, Keyloggers, Access control, Workplace monitoring, Computer surveillance
Price
Landing Page